The island of Bali is part of the world's largest Muslim country, Indonesia, but Bali's population is over 90% Hindu. Much of Indonesia was Hindu prior to arrival of Muslims in the 13th to 16th centuries. The impressive ancient temples of the Hindus can be found on Java and many other Islands, but Bali has the most temples, and the most unusual temple. The "Devata Vishnu" temple is underwater – 90 feet beneath the ocean's surface near Pemuteran Beach in North West Bali.
Some quick online research will reveal that this temple is over 5,000 years old, and its location proves the sea level has risen dramatically. More thorough online research will reveal that this claim is a hoax. The "temple" was actually constructed recently as part of an artificial reef creation project. Coral and other sea life can anchor onto vertical structures placed on the sea floor, creating important marine habitat.
Sea Rovers Dive Center has constructed several artificial reefs with funding from the Australian Agency for International Development. They named the site temple "Taman Pura" or temple garden. This is perhaps the most interesting man-made reef to dive on in the area.
Some internet portals and television stations in Jakarta picked up news of this amazing site and began hoaxes claiming it was an ancient ruin. Western hoax-laden viral content sites picked up the story and amplified the noise-to signal ratio with more inaccurate information. Surya Helmi, the director of the aquatic archeology department in the Indonesian Ministry of Culture and Tourism looked into the stories and published reports in Bahasa Indonesia correcting the information in the hoax.
The initial project was created 29 meters below the ocean surface. This it just slightly below the limits of recreational diving depths, but close enough to descend for a good look. A second site at only 15 meters has been created nearby so that less experienced divers can enjoy the amazing experience of diving to view ancient-looking Hindu and Buddhist statues. The first site has around a dozen large stone statues sitting on the ocean floor and a 4 meter tall temple gateway. You can see more statues at the second site.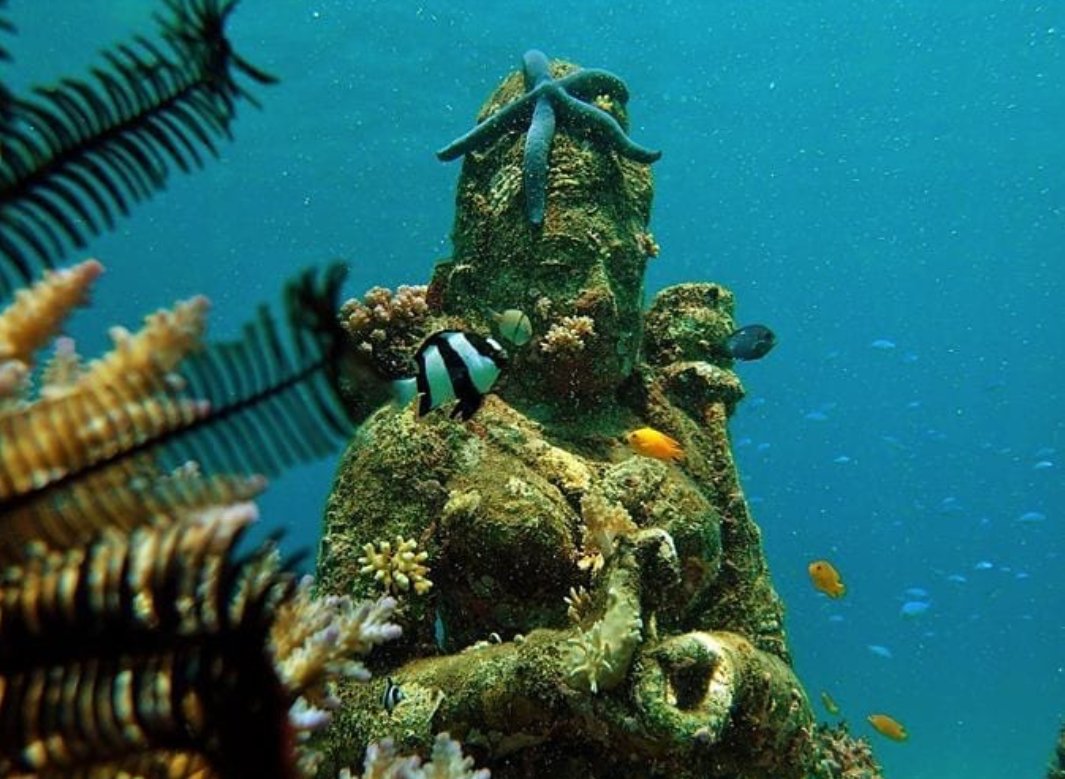 In addition to Taman Pura, there are many other dive sites in the clear blue waters off the coast of Bali. Pulau Menjangan, Amed, and Padangbai all have shallow dive sites that are suitable for beginners. Nusa Penida, Nusa Lembongan, and Candidasa's dive sites are generally deeper or have more current, making them more suitable for experienced divers.
Besides diving, there are a wide range of fun activities to do in Bali that your hosts at Mavi Bali can arrange for you. We have a page with several fun things to do in the Echo Beach area. In addition, adventurous guests might enjoy climbing Mount Batur or Mount Agung, whitewater rafting or mountain biking. Of course Bali is perhaps most famous for its world class waves. You can find out more about surfing in Bali here.